Are you planning a special celebration or maybe even your nuptials in the picturesque village of Chipping in the Ribble Valley? If so, you may want to consider putting a hog roast from Hog Roast Chipping on the menu. As we source all our ingredients locally from the wonderful Ribble Valley countryside, you can be sure that we'll always serve up the tastiest and freshest foods whatever the occasion.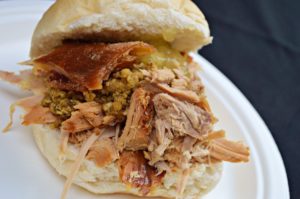 While Chipping isn't very far away from the seaside where fresh fish and chips and seafood abounds, we know that the people of Chipping are always happy to try the local produce, especially the local cheeses made by the Procter family since the 1930s and of course, our delicious and succulent hogs and other meats sourced from local farms.
Of course, our hog roasts wouldn't be as popular as they are without the expertise of our hog roast chefs, who prepare all the dishes on site while the meat is roasting. Just imagine it now; the sweetest and most tender pork that has been slow roasted in its own juices for six hours or more, together with the tastiest and crispest crackling to finish it off to perfection, and then piled up in a roll topped off with apple sauce and stuffing. Sound delicious, right?
Also, if you prefer other meats to pork, you'll be happy to find that we offer chicken, lamb and beef, plus a range of vegetarian options for non-meat eaters. Plus, we have lots of other dishes on the menu to cater for all kinds of budgets and all kinds of tastes, whether you're hosting a formal or more informal event. We've already catered for all kinds of occasions, from football matches, birthday bashes, weddings and more in Chipping, so if you're looking for mouth-watering food for your next special event, look no further than Hog Roast Chipping.