Are you a resident of Clitheroe, the regional market town in the glorious Ribble Valley? If so, no doubt you enjoy living in this vibrant area, as there are plenty of independent shops, entertainment and places for family days out. Having said this, if you have a special event or celebration coming up, where do you go to find the best caterers in town, and how can you ensure that your special occasion will be one that will be remembered for all the right reasons?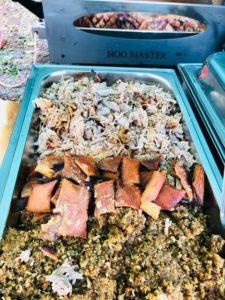 At Hog Roast Clitheroe, we think we have the perfect solution for all kinds of catering dilemmas. We're here to guide you through everything you need to consider to cater for your celebration, whether you're planning something small and informal, larger and more formal, or well, just about any kind of celebration! As your local caterers in Clitheroe, we know just how important it is to get all those little details right, and we've also got the skill and expertise to provide the perfect party food in the shape of our deliciously succulent hot roasts.
However, while we are renowned as being the best hog roasters in Clitheroe, our talents stretch beyond just hog roasting. In fact, our experienced and expert chefs can put their clever hands to all kinds of delicious dishes, from canapés and finger foods to party platters with an Asian influence or Mediterranean twist. Take a look at our celebration menus right now and you'll see that whether you're planning a private party, a BIG celebration or a corporate event, we have menus to suit all budgets and all tastes. And, what's more, all our fresh food comes from local suppliers in the Ribble Valley, so when you book Hog Roast Clitheroe for your catering, you'll be supporting your local businesses too.