Are you lucky enough to live in the beautiful village of Grindleton with views over the stunning Ribble Valley? If so, you'll know all about the wonderful fresh produce available in the area, from home-reared meat to local cheeses and organic vegetables. As an outstanding area of natural beauty, the Ribble Valley has both traditional market towns and villages, including the lovely Grindleton, and is home to all kinds of artistic types and farmers, as well as attracting tourists to sample the walking, cycling, fishing and horse riding which abounds in the area.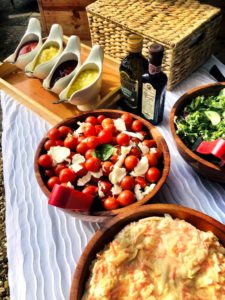 If you're one of the people who live in the Ribble Valley area, and you're planning a celebration to mark an important occasion, you'll want to make sure that you find the best catering company possible to provide your food. And that's why you might want to consider booking Hog Roast Grindleton to supply your festive fare. Whether you fancy one of our famous hog roasts, or you'd prefer one of our buffet menus, the choice is yours, but whatever you choose, you can be sure you're getting top quality local produce, cooked to perfection and dished up by our professional team of chefs and waiting staff.
Regardless of if you're planning a private party or corporate event (no matter how big or small), you'll find that Hog Roast Grindleton can cook up a real feast using the freshest produce sourced locally in the Ribble Valley. Our speciality is our hog roast, which is spit-roasted for at least 6 hours using our own recipe to ensure the juiciest and sweetest meat. Try our pork in a roll, delicious slices of pork with apple sauce and stuffing, or one of our other roast meats, or why not go the whole hog and book one of our sit-down buffet meals for a truly wonderful feast? We can guarantee that you won't be disappointed.