Do you love the idea of a juicy hog roast taking centre stage at your celebration party? What would you opt for – a simple hog in a roll or a sumptuous sit-down buffet? Whatever you choose, and whatever the occasion, be it your wedding, an informal barbecue or a corporate outdoor events day, you can be sure that Hog Roast Whalley will serve up a truly delicious feast. Imagine it now, tucking into tender and delicious meats, fresh and crisp salads, perfectly cooked vegetables and all manner of other tasty dishes, including some devilishly addictive desserts, and you've imagined a feast courtesy of Hog Roast Whalley.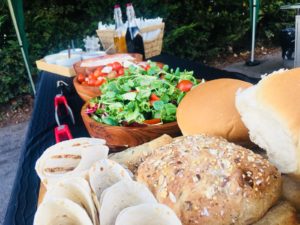 As a local catering company, we know the importance of using local businesses, and that's why we buy all our fresh produce from suppliers in the Ribble Valley area. While it has been classed as an area of outstanding beauty, there's still plenty of fine Lancashire fare to be had, especially in the shape of our tender hogs, chickens, lamb and beef. Having one of our juicy hog roasts as a centrepiece for your next party in Whalley will not only look sensational, but it will also satisfy the big appetites that arise from spending time in the countryside.
Our hog roasts make the perfect centrepiece for any occasion, whether it's an informal barbecue or a more formal celebration. And, our hog roasts and other roasted meats are just the start. As you can see from our menus, we offer an excellent choice of menus for all kinds of occasions. Whichever of our menus you choose, you can be sure that you'll get superb food and service from our team of friendly and professional chefs and waiting staff. We'll also clear away afterwards, so you can really get the party started!