With its idyllic countryside, picturesque villages and quaint market towns, it's hardly surprising that the Ribble Valley has been voted one of the best places to live in the UK. Loved by both farmers and the artistic crowd, there's definitely a thriving community in this lovely area. And just like any community, they love to get together and party, whether it's an informal get-together or a more formal occasion such as a wedding.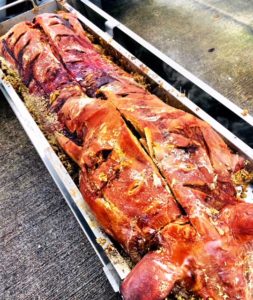 If you're planning a party in the near future and you live in the village of Wiswell, you might want to consider trying something a little different from the usual party food and invite Hog Roast Wiswell to cook up one of their signature hog roasts. Perfect as an eye-catching centrepiece for any buffet, our hog roasts have proved to be very popular for both formal and informal entertaining. One of the simplest ways to serve up our delicious spit roasted pigs is with fresh, floury rolls, apple sauce, stuffing and of course, our crunchy crispy crackling, although many people opt to have our roasts served as part of a sit-down buffet for a more formal get-together.
Whichever way you choose to have our spit roasts served, you're in for a treat as all our hogs and other meats are sourced from farmers in the local area, as is all our other fresh produce. In hiring us, not only are you getting the freshest ingredients, but you're helping the local economy too. Our experienced chefs and waiting staff are also from the local area, and will do everything in their power to ensure that you get the best possible food and impeccable service from the moment they arrive to prepare the food until the last plate is cleared away. Sounds like your kind of catering service? Give us a call and let's discuss your options.