The picturesque village of Brockhall certainly has an upmarket appeal, whether you were born and bred in the area, or you're someone who has made a conscious decision to make your home there. Nestled in the glorious Ribble Valley, it's a wonderful place to live and share special times and celebrations. So, if you're planning a party of some kind, and you're looking for top quality Ribble Valley caterers, you should definitely include Hog Roast Brockhall on your list.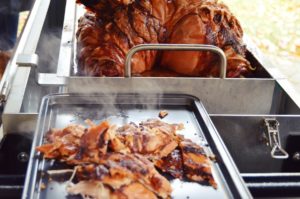 While our name conjures up visions of perfectly roasted hogs, spit-roasted until they're crisp on the outside while meltingly tender on the inside, there is more to our catering company than just spit roasted meats. Of course, our hog roasts are what we're famous for, and who can deny the appeal of our succulent meats wrapped up in a freshly baked roll with a smothering of apple sauce and stuffing? However, we do offer a whole range of other party food too, which will satisfy all kinds of tastes, occasions and budgets. And, as you would expect from one of the best caterers in Ribble Valley, all our produce is sourced from our local farmers and specialist suppliers.
If you're planning a special occasion, be it a private party or corporate event, why not call in the professional caterers in Brockhall? We'll prepare and cook your chosen menu on site, and our friendly and efficient waiting staff will present and serve up the dishes, and then clear everything away afterwards. Our hog roasts are the perfect solution for any large party; they're fun, they're entertaining and they're oh so tasty, plus they make a perfect centrepiece for any event or party.